-|
Kailash

Manasarovar

Yatra

by Helicopter | - Duration

: 10 Days / 9 Nights

Location

: Kathmandu - Nepalgunj - Hilsa - Manasarovar - Tarboche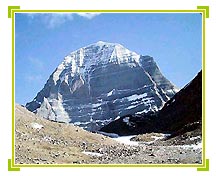 The itinerary presents a blend of ancient Hindu culture and architecture along with the medieval architectural riches. On one hand the visitors taste the exquisitely sculptured temples from the Hindu era, whereas on the other hand they get to enjoy the landmarks of the by gone Muslim era.
Detailed Itinerary
Day 01
: Arrival Kathmandu transfer to hotel. Overnight Stay.
Day 02
: Afternoon flight to Nepalgunj. Overnight at Hotel.
Day 03
: Early Morning fly to Hilsa by Chartered helicopter. A 45 minutes trek to the border town of Shera. Drive for 45 mins to the town of Taklakot, Overnight Guesthouse.Day for acclimatization.
Day 04
: Drive to Manasarovar (3hrs). Overnight in Tents/Guest House.
Day 05
: Full day on Holy banks of Manasarover. Yatris will perform Manasarover Parikrama by Jeeps. Dinner and overnight at Guest House/Tents.
Day 06
: After early breakfast, depart to Tarboche (starting point for Kailash Parikrama). Trek to Driraphuk (12 km. / 7 - 8 hrs). Packed Lunch. Dinner and overnight camping.
Day 07
: After early breakfast, start trekking to Zutulphuk via Dolma Pass (highest point of entire journey, 5750 m). The distance is 18 km with approximate time taken 9 - 10 hrs. Packed Lunch. Dinner and overnight camping.
Day 08
: After early breakfast, trek further for 10 km. (4 - 5 hrs) to arrive at the ending point of Parikrama where jeeps shall be waiting to drive the pilgrims back to Manasarovar. Packed lunch en route. Drive to Sher (3hrs)Dinner and overnight at Guest House.
Day 09
: Proceed to Hilsa. Fly from Hilsa to Nepalgunj. take evening flight back to Kathamandu Overnight in hotel.
Day 10
: Tour End
= Above tour is organised from April till September
= Starting point of the tour is Kathmandu.
= Total duration is 10 Days.
= For above tour only group booking is accepted and is organised as per the dates requested.
Mode of transportation and flying details
(a) Kathmandu - Nepalgunj - Kathmandu will be done by scheduled flight.
Nepalgunj - Hilsa - Nepalgunj will be done by Chartered Helicopter.
Total flying hours of the return journey will be 11 hours.
(b) From the first border town (Shera) of Tibet, the transfers to and from will be done by Toyota Landcruisers.
Only Kora of Mt. Kailash is to be performed on foot. Take two & a half day ( 42 Kms).
Accommodations
Accomodation & all meals are inclusive. Accomodation will be provided in Hotels/Guesthouses OR Tents ( as per Availabilty).
Medical Facilities
Very few medical facility is available in Tibet. That too is very distantly located. Our pramadic staff will accompany the group, who take care of only few Medical issues at High altitudes. Personal Medical kit & medicines are recommended.
Guide
Tibetan Guide will accompany the group, Supported by Tour Leader from India Or Nepal.
Tour Cost
There are three options


Option 1 = Rs. 1,80,000 per person for 8 persons.


Option 2 = Rs. 1,65,000 per person for 12 persons.


Option 3 = Rs. 1,40,000 per person for 15 persons.

The above tour cost includes
Accommodation at Kathmandu, Airtickets of Kathmandu - Nepalgunj - Kathmandu sector. Helicopter Charter charges Nepalgunj - Hilsa - Nepalgunj sector. Advance Camping Arrangements in Hilsa for acclimatisation. Chinese Visa, Tibet Permit and Kailash Permit. Nepal Permit (Humla), Officers fee, Sherapa supporting staff, Nepalese Tour Leader, Tibetian Local Guide. 4 Wheel Drive Jeeps. Accommodation and meals throughout the tour.


The tour cost excludes
Travel Insurance and emergency evacuation / rescue. Charter rates for any increase in flying time or waiting time. Any expenses of personal nature. Above cost is the net tour cost. The travel agent can sell the above tour keeping his own margin.
Permissions and other official formalities
No permission is to be taken from Indian authorities. Outline permit has to be taken Home Ministry of Nepal Govt. To Undertake this tour all yatris should have valid passports. Tibetan Permits & Chinese Visa is required for this tour, which is included in the Tour cost. Only medical Fitness certificate is needed, issued by a registered medical practitioner


Preparations
Preparations as per our brochures and web site (
http://www.kailashmanasarovar.com/pilgrims.html
)
Send Query For This Tour