-| Jaisalmer Tour | -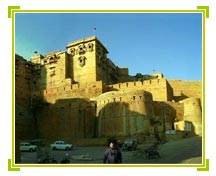 Situated in the midst of desert Jaisalmer is considered to be the epitome of Rajasthani splendor. It seems like a fairy tale kingdom with its magnificent fort, surrounding ancient palaces and beautifully carved temples and of course the rich mansions of the local merchants that are landmarks in themselves. Therefore Jaisalmer is also called as "The Golden City".
JAISALMER FORT
This entire fort is made up of yellow sandstone. It was originally built way back in 1156. The fort also has typical Rajasthani layout as found in other places. It is focal point in the main chowk that is dominated by old palace of the Maharawals with its five storied facade boasting one of the best masonry work in Rajasthan while the interior depicts the typical Rajasthani murals and tile work. Apart from this palace the fort also houses a number of Hindu and Jain temples,the Jain temple being architecturally most superior and spectacular. These temples were built between 12th & 15th century. In one of the Jain temple Jain manuscripts,paintings and astrological charts dating 11th century are preserved.
CAMEL SAFARI
GADI SAGAR TANK AND FOLK LORE MUSEUM
Built in 1367 this tank was sole water supply its two banks are flanked with temples and ghat. The tank is a center of activity during the Gangaur festival.
The museum is situated near the tank it boost the wonderful collection of folk art including wooden statues,painting, musical instruments etc. Most of the displays are related to religion.
Wood Fossil Park is located near Jaisalmer.