-| Flavor of South Tour | -
Duration
: 10 Days / 9 Nights
Location
: Chennai - Mahabalipuram - Kanchipuram - Chennai - Madurai - Thekkady - Periyar - Kottayam - Cochin - Chennai
This is a compact tour programe that gives the chance to feel the essence of the southern most India. Apart from visiting the mammoth and intricately sculptured Hindu temples signifying the bygone glorious era of illustrious Hindu dynasties, visitors get to have an interface with mother nature at the tropical forests of Kerala and also enjoy the wild life in its natural habitat at Periyar and Kumarakom sanctuaries.
Detailed Itinerary
Day 01
: Arrival at Chennai
Arrival Chennai- FLT-On arrival assist at airport and transfer to hotel. O/N at hotel.
Day 02
:
Chennai
City tour visiting Govt. Museum, St. Thomas Cathedral, Fort St. George, St.Mary's Church etc.
Day 03
:
Chennai / Mahabalipuram
Proceed to Mahabalipuram. Visit shore temples. Five raths etc. O/N at hotel
Day 04
:
Kanchipuram / Chennai
Proceed to Kanchipuram. Visit Kailashnath temple, Ekambaranathar Temple, Kamakshi Temple etc. Proceed to Chennai. O/N at hotel.
Day 05
: Chennai / Madurai
Proceed for Madurai by flight. Arrive and City tour visiting Tirumalai Nayak Palace, Gandhi Museum and the most famous is the Meenaskhi temple. O/n in temple.
Day 06
:
Madurai
/ Thekkady
Proceed for Periyar via Thekkady. O/N at Tourist Lodge.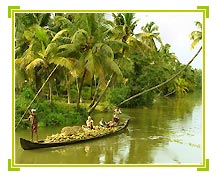 Day 07
: Periyar
Full day visit to Periyar wild life sanctuary. O/N at Periyar.
Day 08
: Kottayam
Proceed to Kottayam. Enjoy backwater cruise. O/N at hotel.
Day 09
: Kottayam / Cochin
Proceed to Cochin. City tour - visit Mattancherry, Santa Cruz Basilica, St.Francis Church. O/N at hotel
Day 10
: Cochin / Chennai
Proceed to Chennai by flight. On arrival assist at airport and departure transfer to International terminal to connect flight for onward destination.
= Above tour is organized round the year.
= Starting point of the tour is Chennai.
= Total duration is 10 Days.
Tour Cost on Request
The above tour plan available for individual and group travelers. The cost will vary depending on number of pax and the class of service desired (ranging from deluxe, first class, tourist class and budget class)
Send Query For This Tour