-| Darsha - Padum 2 Tour | -
Duration
: 9 Days / 8 Nights
Darsha - Padum by the Shinkun-la
This is one of the classic hiking tours of the region . In the summer of 1985 , it was possible to find fresh supplies all along the route except just before and just beyond the Shinun-la. It is advisable to spend 2 and 3 days at Darsha first to become acclimatized. The best period is from july to October. Allow 9 days.
Detailed Itinerary
1st Day : Darsha - camp . 4-5hrs.
From Darsha follow the track until the last hamlet then a good footpath. Pass a spectacular gorge. Continue along the left bank , then cross a first ford .Good camp 1 hour beyond the ford , groves.


2nd Day : Camp - Ramjak , 6-7hrs.
Continue on the left bank until reaching a second (major) ford, then go up the right hand valley. There are good paths on both sides of the stream , but both are hard going. Good camp at Ramjak in small meadow , spring.


3rd Day : Ramjak -Shinkun-la - camp at the Gumburanjon , 8-9hrs.
From the camp , climb moderate slopes to the foot of the pass. Several easy stream crossing (4hrs).The ground flattens out and the path zigzags through a moraine as far as the Shinkun-la(5090m,5.5hrs).The descent is steep and dangerous for horses (ice and some fallen rocks).Cross a final firn to reach the first meadows. Cross several easy streams , then go down an escapement towards a small plateau. Nice view of the Gumburanjon. Good camp between two streams.


4th Day : Camp at the Gumburanjon -Table , 6hrs.
Climb down a mass of fallen rocks, then cross several streams. After one hour , you pass beneath the face of the Gumburanjon , then an easy descent towards Kargyak(4100m) on the right bank , no problem. Two hours after Kargyak ,you reach Table .Good camp.


5th Day : Table - Purne , 6hrs.
From Table , continue on the right bank along an easy path.1/2 hrs before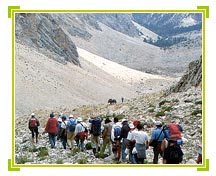 Tanze you cross in front of a narrow gorge where the route joins up with Hiking tour No.2 Darsha - Padum by the Baralacha and Phirtse-la. Tanze is a small village , gompa in ruins a bit higher up. A short distance beyond Tanze , there is a bridge across to the left bank. Monotonous going across moraine terrain. Slight rise leading to Kuru , major village of livestock breeders. Afterwards , an excellent path leads steadily lower. Arrival in Teta (3.5hrs) beautiful village. The path continues downward near the river. Stay on the left bank, then climb gentle slope up to Jal. Next comes a steep descent towards a large bridge which you cross to get to Purne. You can either set up camp somewhere before the house , or pay Rs.10 per tent on an adjacent lot. Watch your things.


6th Day : Purne -Phuktal-Purne , 4hrs.
Leave the horse in Purne. Go up the left bank of the Tsarap into splendid gorges. After 1.5hrs ,cross a bridge in good condition (in 1985).Fifteen minutes later you arrive at a small tributary to the Tsarap, beautifully clear water cascading down. A ledge leads to a small plateau sprinkled with chortens and religious banners. From there , you can see the Phuktal monastery , one of the most spectacular sights in Zanskar. Phuktal belongs to the tradition of the Gelupas(yellow hats).The spring that gurgles deep in the cave is still out of bounds to women. The Hungarian historian Cosma de Koros stayed here over the winter of 1825-26.It is possible to find food and lodging at the monastery.
7th Day : Purne -Ichar , 5-6 hrs.

From Purne , go back down , cross the bridge , then go up the left bank. the trail that overhangs the Tsarap is sometime tricky and hard going . Frequent small canyons of pudding -stones. Pass a bit above a hanging bridge which leads to the village of Cha. Two hours later , you arrive at Kaydang , a small village in a popular grove. Carry on until Hamuni(tea shop).Pass below the village of Surle. The trail is still not good , several stretches difficult for the horses. Arrive at a large bridge which leads to Ichar. Veru good camp. Interesting fortified village.


8th Day : Ichar -Mune , 5hrs.
Cross back over to the left bank , then a gradual climb before coming to a major tributary (bridge). Gradual descent down towards Reru , then quite a beautiful plains covered with flowers (july ) as far Mune. Possibility to camp opposite monastery.


9th Day : Mune -Padum , 5hrs.
From the monastery , go down a steep incline to the main trail. After two hrs , you arrive at Barden Gompa, a Kagyupa monastery famous for its prayer wheel(180cm). From Bardah, a dusty road suitable for motor traffic leads to Padum without difficulty . Several quite beautiful villages on the opposite bank Padum (3650m) : possibilities for fresh supplies uncertain(only rice , tsampa , sugar, tea and sometimes kerosene), several hotels , a restaurant (1985).Passport control .Camping possibilities 1 km down the road to Kargil.