-| Attarambakkam | -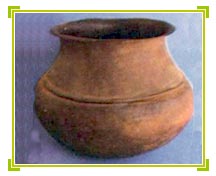 State
: Tamil Nadu.
District
: Chinglepat, Taluka, Tiruvallur.
Longitude
: 13.13. 50 North.
Latitude
: 79.53.20 East.
Nearest Town
: Tiruvallur.
Nearest City
: Chennai.
Nearest Airport
: Chennai.
Nearest Railway Station
: Chennai.
Period
: Lower - Middle Palaeolithic Age.
Accommodation
: City.
Situated in the state of Tamil Nadu (South India) it is the world famous Palaeolathic site of Indian Pre -History, The site is an undisturbed & relatively unexplored site was first discovered by the R.B. Foote in 19th century.
The site of Attarambakkam is of great Pre Historical importance as being one of the India's first site where Palaeolathic tools were found , Situated in the Kottallayar river Basin this site is unique in terms of extremely high density of tools found on the surface. There are more then 100 different sites located in Kottallayar the Basin.
There has been two different stages of excavations at this site.The site is one of the few sites in India where Archeological Excavations has been carried out in continuation to the work of previous archaeological seasons work, the excavations this time are likely to take place during the months of Dec 2001 - Jan 2002.The major Target of this years work will to continue the horizontal Excavations in order to trace the extent & to find out the nature of changes from Lower to Middle Palaeolathic age. This site also has an immense scope of Cultural changes from lower to Middle palaeolathic ages.