-| Bhubaneshwar Tour | -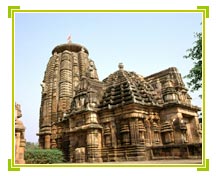 This is the capital city of the state, whose history goes back over 2000 years. Bhubaneshwar is also known as th Town of Temples. It is believed that there was a time when there were 7000 temples in the town out of which only 500 can be seen today. The city is also famous for its tribal festival with dances and folk art. This festival takes place in the month of January.
The major attractions of the town are -
LINGARAJ MANDIR
:- Originally built about 1400 years ago, it is one of the most important temples in India, which is unfortunately closed for Non-Hindus. The temple is dedicated to the Lord of Three worlds - also known as Lord Bhubaneshwar. The temple tower is 40 metres high and it is an important centre for Hindu religion. There are more than 50 swmaller temples and shrines around the Lingaraj Mandir.
BINDUSAGAR
:- It means "The Ocean Drop Tank", which is said to contain water from every holy stream, pool and tank of India. There are a number of temples scattered around the tank and even the deity of the Lingaraj Temple is brought here for the ritual bath once a year.
VAITAL MANDIR
:- dedicated to Goddess Chamunda, this temple was built in 8th Century A.D. and was thr centre of Tantric practices.
PARASHURAMESHWAR TEMPLE
:- Dedicated to Lord Shiva, this temple was built in 650 A.D. It is one of the best preserved temples of Bhubaneshwar.

MUKTESHWAR, SIDDHESHWAR & KEDARGAURI TEMPLES
:- These 10th Century temples show the mixture of Hindu, Buddhist and Jain architecture.
BRAHMESHWAR MANDIR
:- This 9th Century temple is famous for its finely detailed erotic sculptures.
UDAIGIRI & KHANDAGIRI CAVES
:- situated on hills, these caves are few kms. away from the city. The oldest of these various caves dates back to second century B.C. These caves have intricate sculptures and carvings.
OTHER ATTRACTIONS
include Rajrani Temple (a beautiful and modern temple), State Museum, Tribal Research Centre, Shishuphal Garh (remains of Ashoka's City), Plant Reserve and Largest Rose garden in India.
Places nearby Bhubaneshwar
-
DHAULI
:- This place is famous for rock-carved edicts of Ashokan period. NANDANKANAN :- is 25 kms. from North of Bhubaneshwar. This place is famous for holding highest population of white tigars in the world. The visitors can go for safaris by bus , elephant rides and option of boating in the lake is also available.

Bhubaneshwar Tour, Indian Cities Guide Reservation Form