-| Kanyakumari Tour | -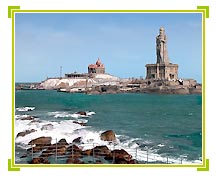 This holy town is situated at the southernmost tip of India and is at the point where Indian Ocean, Bay Of Bengal and Arabian Sea meet. Although it is in Tamilnadu, however, it is more convenient to travel from Trivendrum, Kerala.
Apart from having religious significance, Kanyakumari is also famous for its sunrise and sunset, especially on full moon day in April, when one can watch both Sunset & rising moon on the same horizon. The town is named after the name of Local guardian deity Kanya Devi.
The main attractions of this town are -
Kumari Amman Temple
Dedicated to virgin goddess Kanya Devi or Parvati. The image of the Goddess wears a diamond nose stud of such brilliance that one can see its glitter from the sea.
Gandhi Mandapam
It is an imitation of an oriya temple and is designed in such a manner that on 2nd October, the sun rays directly strike on the spot where ashes of Mahatma Gandhi were laid.
Vivekanand Memorial
One can reach it by ferry. This memorial houses the statue of Swami Vivekanand. From here, one can also see the footprints of Kanya Devi on the spot where she performed penance.
Stanunathaswamy Temple
Situated at Suchindram, 12 kms. of Kanyakumari, it is an ancient temple. Some parts of the temple date back to 9th Century and some of the construction belongs to as late as 16th Century. The present huge pyramidal Gopuram was erected during 16th Century. Temple is jointly dedicated to Brahma, Vishnu and Shiva and houses a beautiful Shivalinga. The most unique feature of this temple are its Musical Pillars which emit a chime when struck. The temple also houses an extraordinary tall figure of Hanuman (3 meters).