-| Leh Tour | -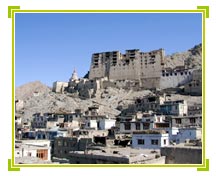 Leh was opened for tourists in 1974 it is the capital of the region and is an important military center for India. It is located in a small valley north of Indus Valley. The bazaars of Leh are full of Ladakhi arts & crafts.
The attractions of this place are -
CHANGSPA
This village is famous for its 8th to 9th century Buddhists carvings.
LEH PALACE
Built in 17th century this deserted palace is a miniature of POTALA PALACE OF TIBET
NAMGYAL TSEMO GOMPA
Built in 1430 the gompa is well known for its 3 storied Buddha's image and rare collection of ancient manuscripts.
SHANTI GOMPA
Started by DALAI LAMA in 1985, this gompa was built with the efforts of a Japanese traveler with funds provided by Japanese government.
Other Attractions
SANKAR GOMPA, LADAKH ECOLOGICAL DEVELOPMENT GROUP ( this group aims to preserve the culture, art & heritage of the area.
Places around Leh -
CHOGLAMSAR
: is an important center for studies on Tibetan Buddhism, culture & history. This place has got Tibetan library ,handicraft shops, bookshops, medical center and central institute of Buddhist Studies.
HEMIS GOMPA
: is 45 kms from Leh , this gompa belongs to the Drukpa order dating back to 17th century. It has got the largest Thangka of Ladakh region which is 12 meters long and there is an excellent library & some beautiful figures of Buddha.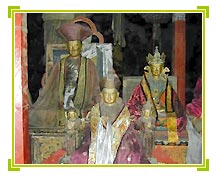 The gompa also hosts the famous annual festival which takes place here during the month of July. There is KOTSANG HERMITAGE GOMPA and some of the caves nearby.
MATHO GOMPA
:This 16th century gompa is famous for its annual festival(feb-mar) in which monks goes into trance.
SHEY GOMPA
:15 kms from Leh , this gompa is well known for its 12 meters Shakyamuni statue made of copper & plated with gold, the building was once the summer palace of Kings of Ladakh. There is library, collections of thankas & some stupas at this place.
SPITUK GOMPA
: is 8 kms from Leh , this gompa dates back to 15th century and belongs to Gelukpa order, the gompa is famous for its annual festival which takes place during the month of january in which some rare statues of Buddha are unveiled.
STOK GOMPA & MUSEUM
: built in 1814 the gompa is the place where last king of Ladakh died, the museum here displays the rare collections ornaments, clothing, jewelry of royal family.
TIKSE GOMPA
: is 17 kms from Leh, the gompa has got great collections Tibetan books & some rare artworks of the region.

Leh Tour, Indian Cities Guide Reservation Form