-| Khajuraho Tour | -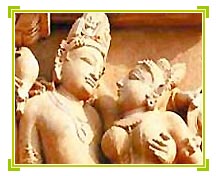 Khajuraho boasts one of the most celebrated architectural glories of Ancient India. This is located in Central India and Jhansi is the nearest major town. The cluster of temples at Khajuraho are some of the most exquisitely sculpted temples in India but are also the mysterious and highly controversial because of the sheer sensuality and even downright eroticism of their sculptures.
Such sculptures are in abundance, however, there are also a number of religious, mythological and other sculptures that give an idea about the socio-cultural aspects of that era. These temples were built between 10th and 12th Centuries by the Chandela Dynasty. Khajuraho temples are located somewhat away from the Indian mainstream and the best way to reach there is by airplane. This may be the reason that these temples are well-preserved with all their glorious carvings. Even though it is believed that originally, there were 85 temples out of which only 25 have survived.
The most famous and spectacular among the temples are Kandariya Mahadev, Vishwanath and Nandi Temple,Lakshamana, Matangeshwara Temple and Chusath Yogini (the oldest temple at Khajuraho dating from 990 AD or earlier). Collectively these temples are also famous as The Western Group Of Temples.
There is another cluster mainly comprising of Jain Temples known as The Eastern Group Of Temples. These include Parsvanath, Adinath and Shantinath Temples and also Jain Museum.
The Southern Group of Temples comprises of only two temples namely Duladeo and Chaturbhuja.