-| Sravasti | -
Location
: District Sravasti (UP)- Lat 27º 80'N ,Long 82º 2'E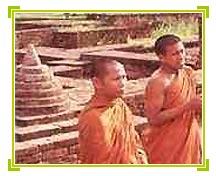 The ancient city of Sravasti is a place of great reverence among Buddhist and Jain alike owing to the association with Lord Buddha - the propounder of Buddhism and Lord Mahavira – the founder of Jainism. The place is situated in Sravasti district between erstwhile Gonda and Baharaich district in Uttar Pradesh about 170 kms. from Lucknow - the state capital. Sravasti itself being a district with head quarter at Bhinga about 90 kms. northwest of ancient city of Sravasti. (Sahet-Mahet)
The ancient buddhist site is situated about 12 kms. west of Balrampur district headquarter with the railway station on the Gonda - Gorakhpur loop line (metre gauge section) on the North-Eastern railway. The site is located on the National Highway number 21 and is well connected both form Balrampur and Baharaich by the state transport buses plying between Balrampur and Bahraich as well as taxis and other modes of conveyance are also available regularly to approach the site.
The history of Sravasti goes back in time a long before the Lord Buddha. The Buddhist chronicle Tripitaka describes it as the prosperous city of the kingdom of Kosala (Modern Oudh) - one of the sixteen Janapads of ancient India. However, very little about the city is referred in the history till the 6th century BC. It rose to the fame owing to the association with Lord Buddha and Lord Mahavira.
The Sravasti is famous in the Buddhist chronicle because Lord Buddha performed the great Miracle and stayed at Sravasti for 25 rainy seasons of Varshavaas, comprising of three month each year, out of his forty five years of preaching the doctrine of Buddhism. Sravasti is one of the eight holy places of Buddhist pilgrimage. It has been described as prosperous city of king Prasenjit – the ruler of Kosala Janapada. The contemporary wealthy merchant of Sravasti built a vihara for the reception of Lord Buddha. The present structure of the Jetavana complex belongs to Gupta period. The ancient city of Sravasti has mud fortification and is six and half kms. in circumference with many structures still buried underneath. The Jetavana monastic complex has famous Anand Bodhi tree - an offspring of the one said to have been planted by Lord Buddha's main disciple Ananda.